Sponsor A Horse
Thank you for your interest in sponsoring one of the horses of the Buffalo Woman Ranch Herd.
A $60 donation will provide hay for one of the 6horses for one month. Any donation amount is appreciated! Ongoing sponsorship is a huge contribution to the Ranch and the well-being of our equine facilitators.
If you sponsor a particular horse @ a minimum of $60 per month for six months or more, we will indicate on the sponsorship page that this horse is being sponsored, and with your permission we will include your name as their sponsor. We will also offer you a one night stay in our cozy wooden yurt, and a horse session. When you make your donation, please click on the "comments to seller" section of the PayPal page and include the name of the horse you are sponsoring, as well as your name and email address and any other comments you want to include. We would like to send a thank you email to you. We will not share your email address with anyone else.
General donations will be applied towards hay, hoof care and ordinary veterinary expenses.
We are all in great appreciation of your contribution to the well-being of these magnificent horses.
Thank you from the horses and people at BWR!
A very special "Thank You" goes out to B. Nighan and J. Oldham for their loving support of Star, one of our original herd, prior to her passing.
Horses Available for Sponsorship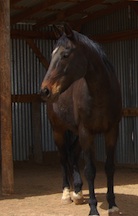 Cody
NAME: Cody
BREED: Thoroughbred
AGE: ~17
NEEDS: Special farrier costs and cranial-sacral treatments
Click the donate button to sponsor Cody via Paypal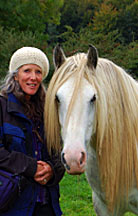 Aingeal
NAME: Aingeal
BREED: Gypsy Cobb & Drum Horse
AGE: 17
NEEDS: Feed, farrier care
Click the donate button to sponsor Aingeal via Paypal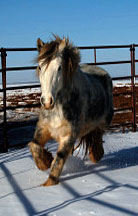 Brigid
NAME: Brigid
BREED: Gypsy Cobb & Drum horse
AGE: 9
NEEDS: Feed, farrier care, ongoing training
Click the donate button to sponsor Brigid via Paypal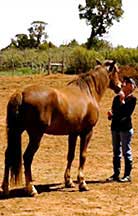 Hermanito
NAME: Hermanito
BREED: Spanish Bar Mustang
AGE: 10
NEEDS: Feed, farrier care, tack for riding
Click the donate button to sponsor Hermanito via Paypal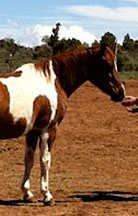 Bella
NAME: Bella
BREED: Arab Quarter cross
AGE: 10
NEEDS: Feed, supplements, farrier care, cranio-sacral adjustments
Click the donate button to sponsor Bella via Paypal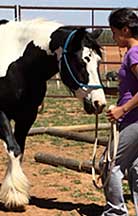 Liberty
NAME: Liberty
BREED: Gypsy Cobb & Drum horse
AGE: 7
NEEDS: Feed, tack, ongoing training
Click the donate button to sponsor Liberty via Paypal